Hohm Tech Depot 18650 Battery 3005mAh 22.5A
£7.50 RRP £12.50
Hohm Tech Depot 18650 Battery 3005mAh 22.5A
Product Details
Hohm DEPOT is tailor-made to push where other batteries fall.  It focuses on maintaining everything one would expect of Hohm Tech cells while simultaneously reducing the cost per unit of Ah.  R&D started in early 2020, with prototype testing by late 2020 and throughout 2021.  With minor, mild, and unique formulation adjustments, Hohm DEPOT can confidently surpass other 3Ah (3000mAh) cells.  A highly-positive result in the cell honing comes improved cycle life (via UL test standard).  This occurred from simply switching from the QSP to DSP (Quad vs. Dual Stripping Process).
As for the nitty-gritty…these are rated at 3005mAh capacity, with a CDR of 16.8A, and 80oC | 3.2V cut-off limit (whichever occurs first) @ 22.5A. For DC motor and inverter-only applications, the DEPOT cell handles 28.4A for 5s on, 30s off. Note: 28.4A limitation is solely for DC motor and inverter applications only. All ratings are subject to meet and/or exceed strict limitation policies set forth for DLr1, TID2, PVDL3, CLR4, m?R5, and Temperature (°C). Hohm DEPOT is built from the DSP NMC chemistry formulation, with manganese inert compound replaced with additional proprietary levels of cobalt & nickel as well as added custom bonding agents to achieve unprecedented U.D.O.S. results.  It is further enhanced with components from industry-leading manufacturers that give it the heartbeat of Hohm Tech.
Every Hohm Tech cell model has been tested and certified by UN38.3, EN62133, IEC62133 2nd Edition, and UL1642 accredited laboratories and testing facilities assigned by regulatory bodies.  This includes MSDS, CE, ROHS, UN38.3, IEC, PSE, Specifications, and Air/Sea Transport certifications.  We do not cut corners. We deliver what we promise… chart-topping performance, capacity, consistency, and safety.
Capacity (mAh)/ Wh: 3005 / 10.81
Continuous Discharge Rate: 16.8A
Max Discharge Current: 22.5A
Energy Density (wt.): 221.06 Wh/kg
Energy Density (vol.): 653.5 Wh/l
Cycle Life Retention: 500 (75%)Chemistry Type: DSP Li-NMC

Can be charged at a tested/proven 4.14A rating: Yes, 4.14, as in FOUR POINT ONE FOUR. It is possible, tested, proven, and approved.
3005mAh | 16.8A CDR | 22.5A @ 80'C cut-off
Can be charged at a tested/proven 3.60A rating with minimal impact to degradation
Amperage delivery at sustained voltages ensures powering relevant loads
Recalibrated chemistry formula comprised of DSP compounds
Progressive amperage-to-capacity and capacity-to-weight
EPTC (Enhanced Positive Thermal Coefficient): Reduction in Thermal Runaway potential
Equipped with the UPS sealing compounds as an extended assurance of proper operation and performance
DSP (Dual Stripping Process) formula and selection of raw chemistry achieves a greater cycle life than any previous Hohm Tech cell
2nd Gen Cathode Tag integration to promote reduction in internal resistance
NEW slurry stir process enables greater consistency and minimizes cell-to-cell variation





WARNING

: 
LI-ION CELLS HAVE INHERENT RISKS IF MISUSED OR MISHANDLED.   CELL CAN EXPLODE CAUSING SEVERE BURN INJURY, FATALITY, AND PROPERTY DAMAGE.
CELL = BATTERY
KEEP OUT OF REACH of anyone under 18 years of age, AND pets.

DO NOT PUT IN FIRE

, oven, microwave, or expose to anything over 100oC (212oF)

DO NOT  CARRY

 or store OUTSIDE of its protective packaging or a PROTECTIVE CELL CASE.

DO NOT PUT IN POCKET

, bag, purse, or anywhere WITH METAL OBJECTS including COINS and KEYS.  Cell needs to be in protective packaging or case at all times when not in use.  Otherwise, cell(s) could short-circuit and explode.
DO NOT 

PUT A DEVICE WITH CELL(S) INSTALLED IN POCKET 

or 

ON YOUR BODY. 

As unlikely as it may be, a device can malfunction, have a defect, internal damage, and/or be affected by conductive debris or object(s) in pocket that can overload or short-circuit cell causing it to explode.

DO NOT USE IN A DEVICE THAT CAN EXCEED MAX CELL WATTAGE (W) 

or AMPERAGE (A) (listed on each cell and retail packaging).  Otherwise, this can overload a cell, causing it to explode.

DO NOT USE A LOWER RESISTANCE

 (?) # (listed on each cell and retail packaging).  Otherwise, this can overload cell, causing it to explode.

DO NOT USE CELL WITH ANY DAMAGE TO ITS STRUCTURE OR OUTER PROTECTIVE LABEL 

(also called "WRAP", "sleeve", "skin"). Damage may include: dent(s), tear(s), nick(s), puncture(s), corrosion, or any other undisclosed abnormalities or damages.  Otherwise, a cell can short-circuit and explode. ALWAYS INSPECT cell VISUALLY and by TOUCH to SEE/FEEL for damage BEFORE EACH USE. ** SEE ILLUSTRATION BELOW AS GUIDELINE. **

DO NOT LEAVE UNATTENDED WHILE CHARGING, & REMOVE CELL(s) FROM CHARGER ONCE FULLY CHARGED 

to ensure it is not exposed to any potential charger malfunction such as overcharging which could damage cell causing it to explode.

DO NOT CHARGE HIGHER THAN MAX CHARGE VOLTAGE (V)

 (typically 4.2V) or DISCHARGE BELOW MAX VOLTAGE CUT-OFF (V) (typically 2.5V).  Overcharging or over-discharging cell(s) can cause irreversible damage and cause it to explode.

DO NOT MIX WITH USED or DIFFERENT BATTERY TYPES

. Differences in cell capacity can lead to one or more cell(s) being overcharged or over-discharged. 
IF USING A MULTI-CELL DEVICE, the device MUST HAVE A NON-CONDUCTIVE BARRIER (typically plastic) OR FITMENT that PREVENTS CELL(S) from TOUCHING THE SIDE(S) OF ONE ANOTHER OR ANY ADJACENT METAL except for the very center of top and bottom of the cell. Otherwise, cell(s) could short-circuit and explode.

ALWAYS 

replace cell when capacity is decreased, up to a maximum of 12 months (1 year) when used in a removable-battery device (any device that cell can be removed).  Otherwise, cell degradation and wear incurred from repeated removal/installation can impede safety and subject cell to being short-circuited causing it to explode.

ALWAYS 

use, connect, charge, and operate cell(s) within their capabilities as listed on each cell, packaging, and product detail pages, while adhering to the device's user manual.

COMPLETELY READ

 and follow the 

WARNING 

section listed on each cell, packaging, and here, in its entirety.
SEARCH www.YouTube.com for "18650 EXPLOSIONS" to understand the importance of consistently taking safety precautions and using Li-ion cells properly.  Hohm Tech advocates recycling and replacing any damaged Li-ion cell/battery. Or visit Hohm Tech Warranty Center for recycling and replacement.  Your safety is #1.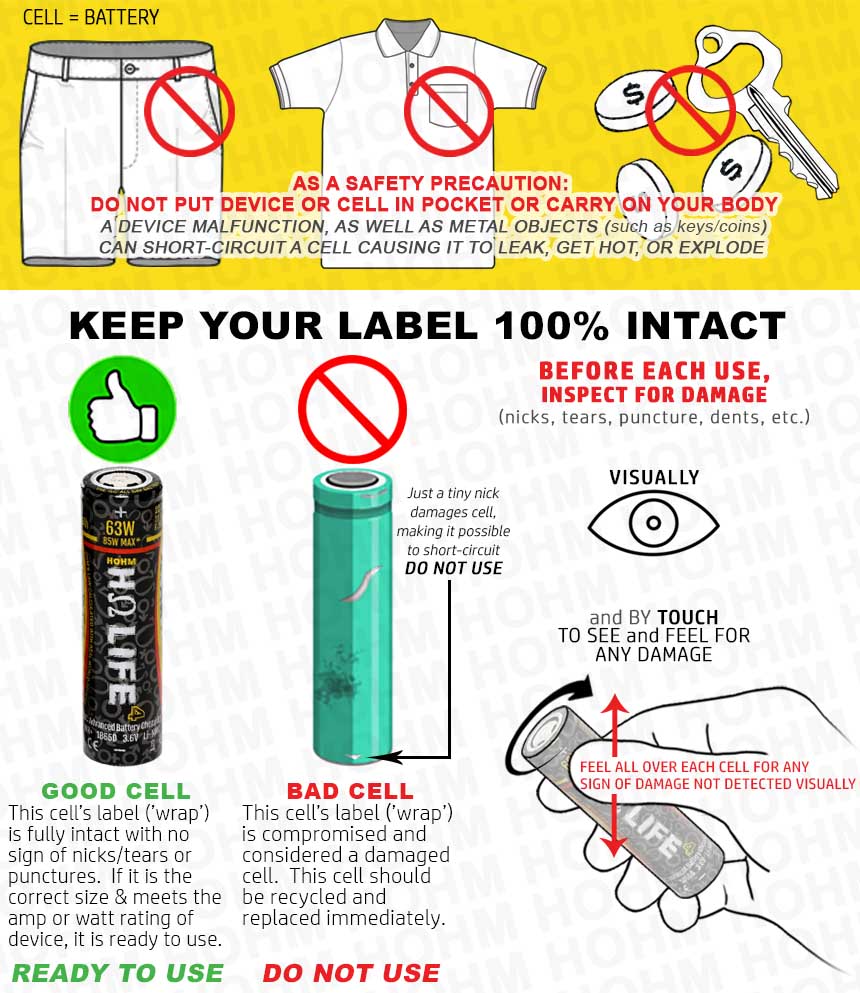 THIS PRODUCT CONTAINS NICOTINE, WHICH IS A HIGHLY ADDICTIVE SUBSTANCE.
Nicotine strength explained:
Different nicotine strength displays: 
You may see eLiquid strengths written as mg, mg/mL, or in percentage form. Here is how they are displayed in each:
0mg = 0mg/mL = 0% Nicotine
     1.5mg =1.5mg/ml = 0.15% Nicotine
     3mg = 3mg/mL = 0.3% Nicotine
     6mg = 6mg/mL = 0.6% Nicotine
     12mg = 12mg/mL = 1.2% Nicotine
     18mg = 18mg/mL = 1.8% Nicotine
     20mg = 20mg/mL = 2.0% Nicotine     
Contains: Vegetable Glycerol, Propylene Glycol, Nicotine, Other Flavourings. Can contain traces of allergens.
Diacetyl, Acetoin and Acetyl Propionyl free. 
Diethylene glycol free.
Not for use by people under 18 years old, Non-smokers, Pregnant, Nursing, People with cardiovascular conditions, Diabetes, Asthma or people sensitive to content.
Adverse effects: Headache, Dizziness, Dryness in mouth, Nose, Throat.
Warning: Harmful if swallowed
Keep out of reach of children. Wash hands thoroughly after handling. IF SWALLOWED: immediately call a POISON CENTRE or doctor/physician. Rinse mouth. Dispose of container in accordance with local regulations. 
Dispose of contents/container to by handing over to the person authorised to dispose of waste.
Can contain traces of allergens.
Reviews
Reviews
There aren't yet any reviews for this product.
Add a review
You May Also Like